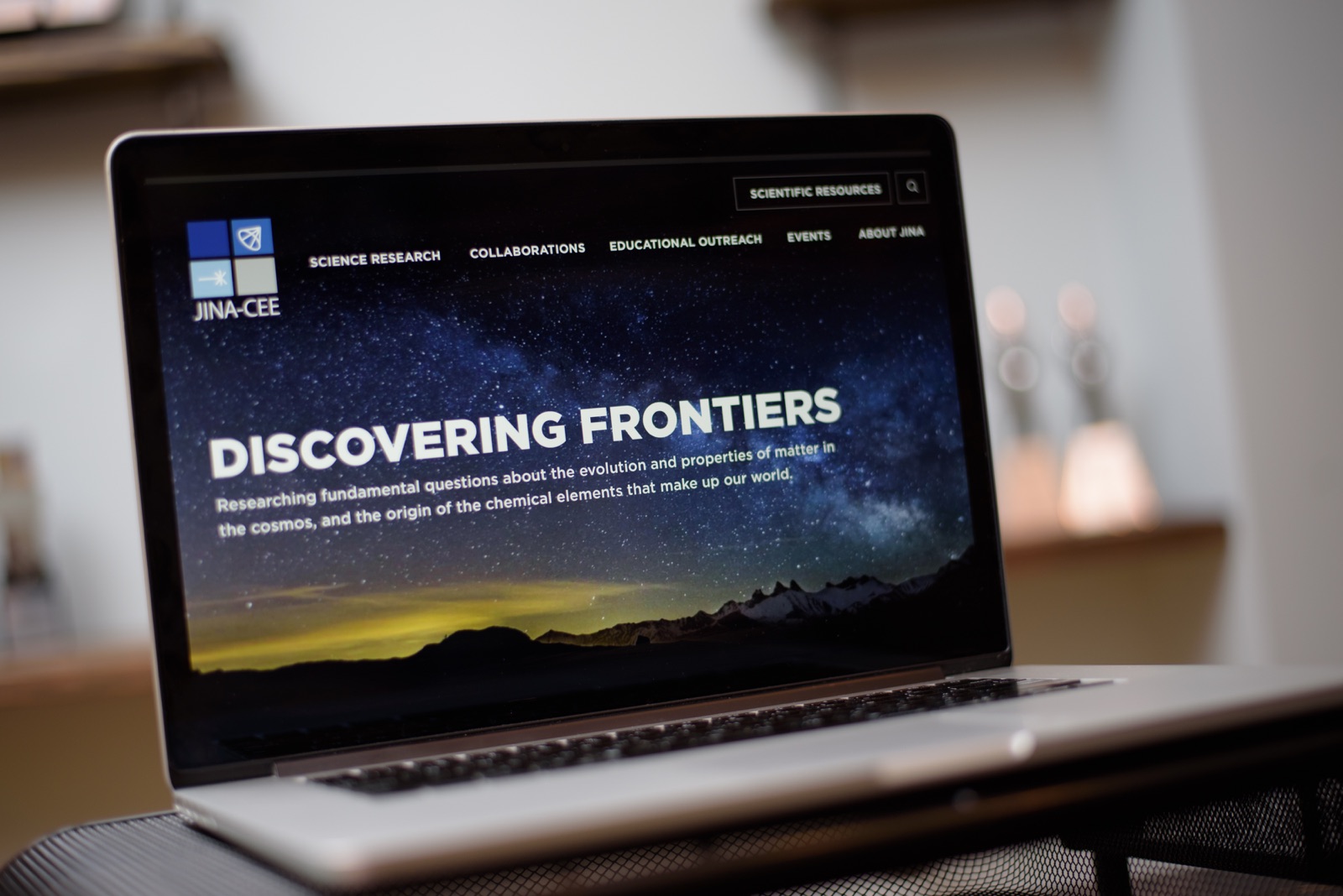 Homepage Design
The JINA-CEE homepage design is one of our personal favorites – merging high quality imagery, a vibrant color scheme, and animated design elements to create a compelling online experience. The JINA-CEE team gave us creative freedom to push boundaries and experiment with unique design ideas. Our goal was to create an atmosphere that evokes a sense of discovery and exploration. We also needed to bring the variety of programs and research that makes JINA-CEE a leader in their field directly to the forefront.
Animated Elements
Our front-end team worked various animated elements into the website to provide a delightful user experience, making the website more engaging and reflecting the fun side of nuclear science research. The homepage hero space features northern lights drifting across a starry sky. If you pause long enough, you may even spot a shooting star!
We applied the concept of signaling throughout the website, including the main menu. For example, when a user hovers over a menu item, a box outline appears to indicate that this is an interactive button. The "Scientific Resource" box in the top right of the homepage drops down to reveal a quick link menu with a set of interactive icons. By hovering over an event or news item, the image in the box zooms in. Nearly every clickable item has some form of subtle animation.
Gravity Works uses animations in appropriate, subtle ways that enhance the design and support the content.
Audience-Specific Landing Pages
JINA-CEE provides programs, events, and other resources for a variety of audience groups – from students working toward their post-doc degrees to school-aged children learning about the basic principles of atoms. We worked with JINA-CEE to identify their major user groups, then created educational landing pages for each group, pulling in relevant content (like events and news) and allowing JINA-CEE to share other audience-specific information (like activities and programs).
News & Events
One of the primary missions of JINA-CEE is to provide researchers with opportunities to collaborate and share new ideas. The new website helps bring people together and serves as a platform to share industry news with event and news functionality. Using Drupal, administrators can easily create this type of content and choose where they want it to post.
Like What You See?
We love people who are passionate, communicative, and care about doing things the right way. Sound familiar? Let's start talking.