Lansing Board of Water & Light
2x
web traffic during outages
Making Content Manageable
The original BWL website held a large amount of information. Over the years, their staff had accumulated thousands of pages across multiple subsites. One of our first steps was to conduct a thorough content audit to locate, document, and review all their web content. We also made recommendations to pare down some of this content, which eventually helped us create a simpler, more organized sitemap.
Building a Communication Platform
The primary function of the BWL website is to communicate information. We wanted to create a robust communication platform to help BWL effectively interact with their customers.
We built this website using Drupal
, which allowed our team to create a variety of custom content structures. BWL has more than 30 unique content layout options to choose from, giving them greater control and creative freedom to build custom page layouts. In addition, they have access to more than 50 unique icons. Our team created an in-depth content guide to help content editors navigate these content options and visualize what they will look like once published.
Putting Community First
It became clear early on in the project that community was going to be an important theme to this website. BWL is committed to serving its customers in more ways than one. They fund a variety of programs and resources to encourage sustainable energy practices, educate the community about electrical safety, and help families and business owners save money on their utilities. They also sponsor a number of beloved annual events in the Lansing area.
BWL wanted their new website design to reflect their commitment to community. The homepage communicates this message with friendly colors and typography, impactful imagery, and a large community events section. This warm, welcoming design is carried through the entire website.
Improving Navigation
We created a new sitemap to support the immediate needs of BWL customers, placing a higher priority on the information that matter most to them. This new navigation structure guides customers through the site to help them locate information with minimal clicks. We conducted user tests with actual customers to make sure users could easily locate key information. Our team analyzed their feedback and made modifications to further strengthen the site's information architecture.
Creating an Emergency Strategy
Dark Site
BWL needed an effective way to communicate critical information to customers in the event of a power outage. Their website analytics revealed dramatic traffic spikes during outage events, indicating a strong need for an emergency strategy. We recommended creating a separate dark site which BWL could easily activate during power outages or other emergency situations. The dark site serves as a replacement homepage to communicate the most critical information to customers, such as outage updates.
Alerts
In addition, we built a separate alert system that allows BWL to share less severe outage updates on the homepage, such as a localized outage effecting a handful of customers. Administrators can choose whether an alert is normal or high priority, which will determine its placement and prominence on the website.
Outage Center
The new website also has a dedicated Outage Center, which can be accessed from the top menu. This is where customers will find all active alerts, a link to the outage map and mobile app, emergency preparedness information, and more.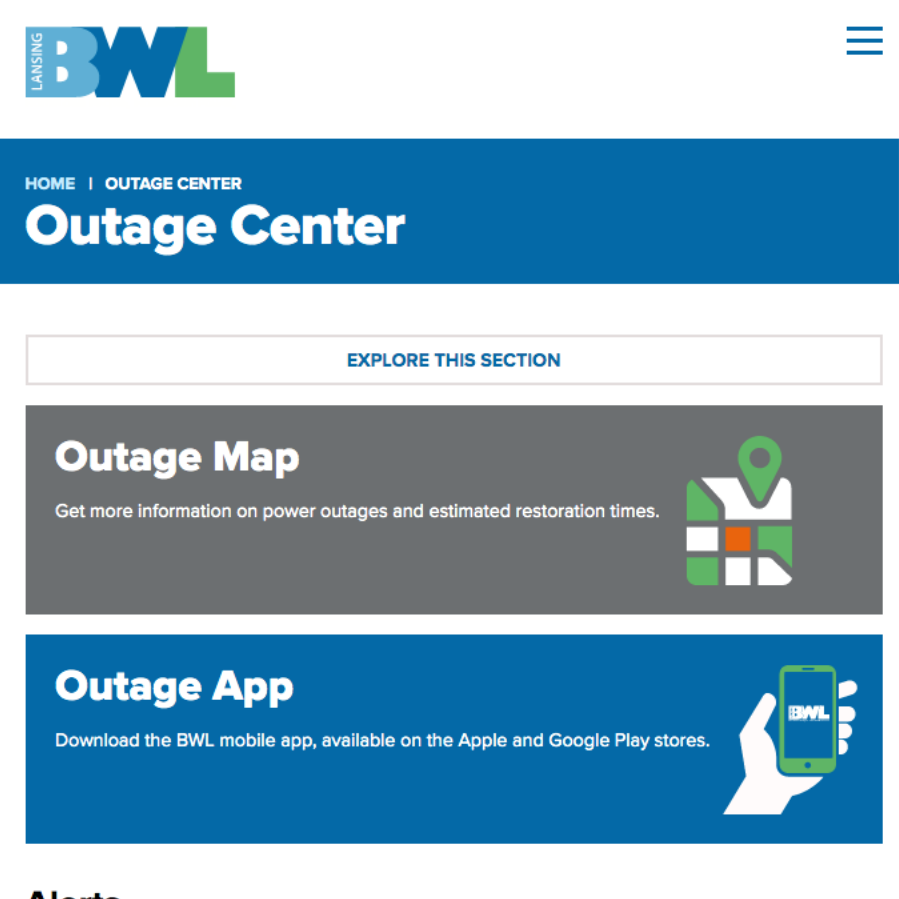 Like What You See?
We love people who are passionate, communicative, and care about doing things the right way. Sound familiar? Let's start talking.