Habitat for Humanity of Michigan
Everyone deserves to have a decent, dependable place to call home. Habitat for Humanity of Michigan (HFHM) is one of the largest state networks in the nation, with an affiliate serving almost every county. They support affiliates across Michigan by recruiting volunteers, raising funds, and advocating for safe and affordable housing. Gravity Works created a warm, inviting online space to promote Habitat affiliates, services, and programs across Michigan. We built tools and resources to help Habitat engage with potential and returning volunteers, donors, sponsors, and families in need.
61
affiliates across Michigan
703
homeowners served in 2017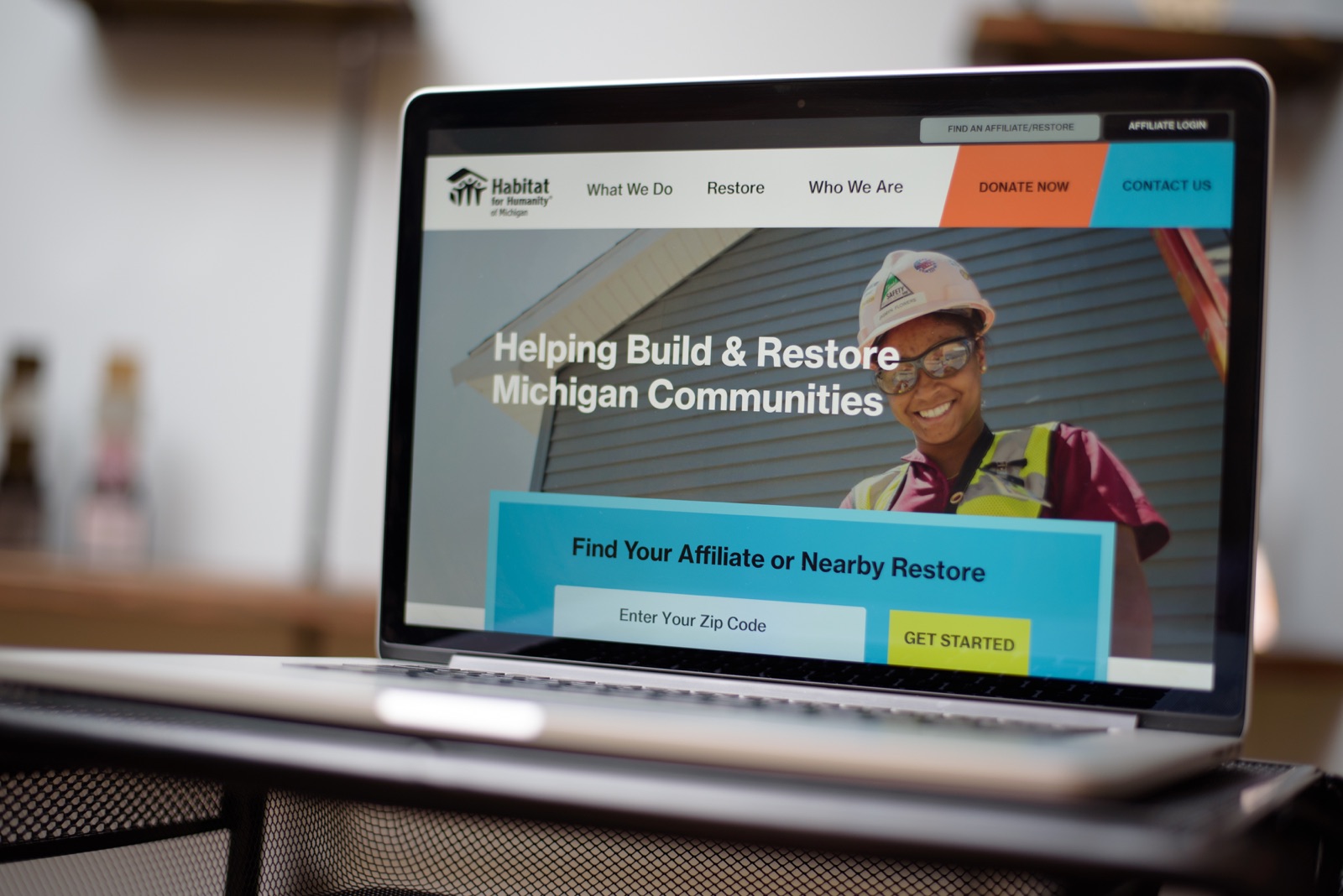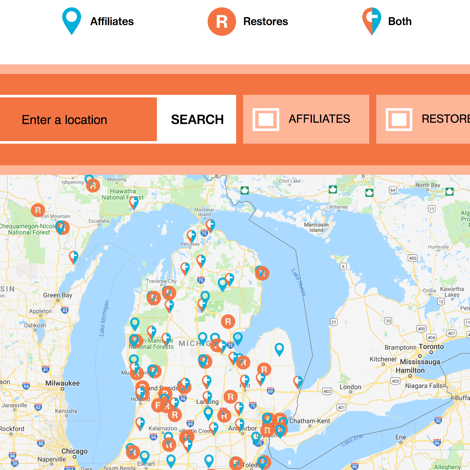 Finding an Affiliate/ReStore
Habitat wanted to make it simple for users to find their nearest Habitat affiliate or ReStore center. At the top of the homepage, a search bar allows users to find locations by zip code or city. For a more visual experience, we connected Google Maps with our search functionality to display location pins. These tools encourage users to get involved with Habitat at a local level and make an impact in their own communities.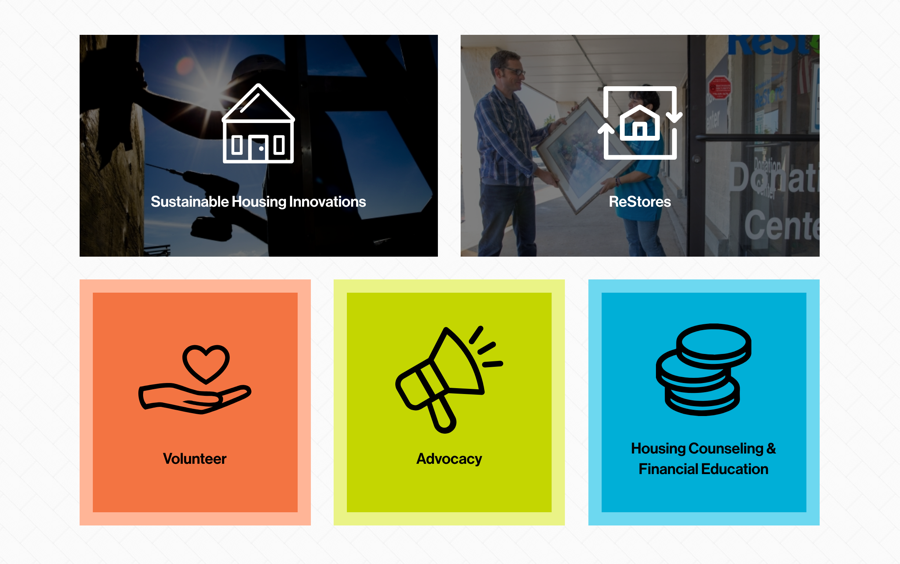 Promoting Services & Resources
Habitat's mission extends beyond building houses and providing shelter. Many people aren't aware of the valuable programs and services Habitat offers to empower and educate Michigan families. The new website places a larger focus on promoting these resources on the homepage. We built custom content types to help administrators create engaging subpages for each major service area–housing counseling, financial education, advocacy, volunteering, ReStores, and more.
Creating a Connection with Users
It takes hard work and commitment from many people to build a strong community. We wanted to make it simple for Habitat supporters to get involved and stay engaged. Habitat has a strong social media following, so we created an attractive grid interface on the homepage to display social media posts. The homepage also features upcoming events and a callout to sign up for their newsletter. A dedicated news and events page allows users to browse through all published information.
There are various ways to support HFHM, and monetary donations are just as appreciated as labor donations. While monetary donations are not handled directly on the website, we created an informative donation page to promote all the ways users can give to Habitat. Testimonials and impactful statistics are scattered throughout the website to encourage users to join the cause.
The team at Gravity Works was a pleasure to work with as we developed our new site. They listened to our needs and the needs of our customers, and crafted a solution that was both beautiful and easy to maintain. They worked seamlessly within the bounds of our national brand guidelines while also granting us creativity within the design. Their customer support is always on hand to help us find a solution quickly if we run into any issues. We are very proud of our new website and we are thankful for all the time and dedication Gravity Works spent putting together a product that we love!
Maureen Savage
Communication & Marketing Coordinator, Habitat for Humanity of Michigan
Like What You See?
We love people who are passionate, communicative, and care about doing things the right way. Sound familiar? Let's start talking.