MSU Resource Center for Persons with Disabilities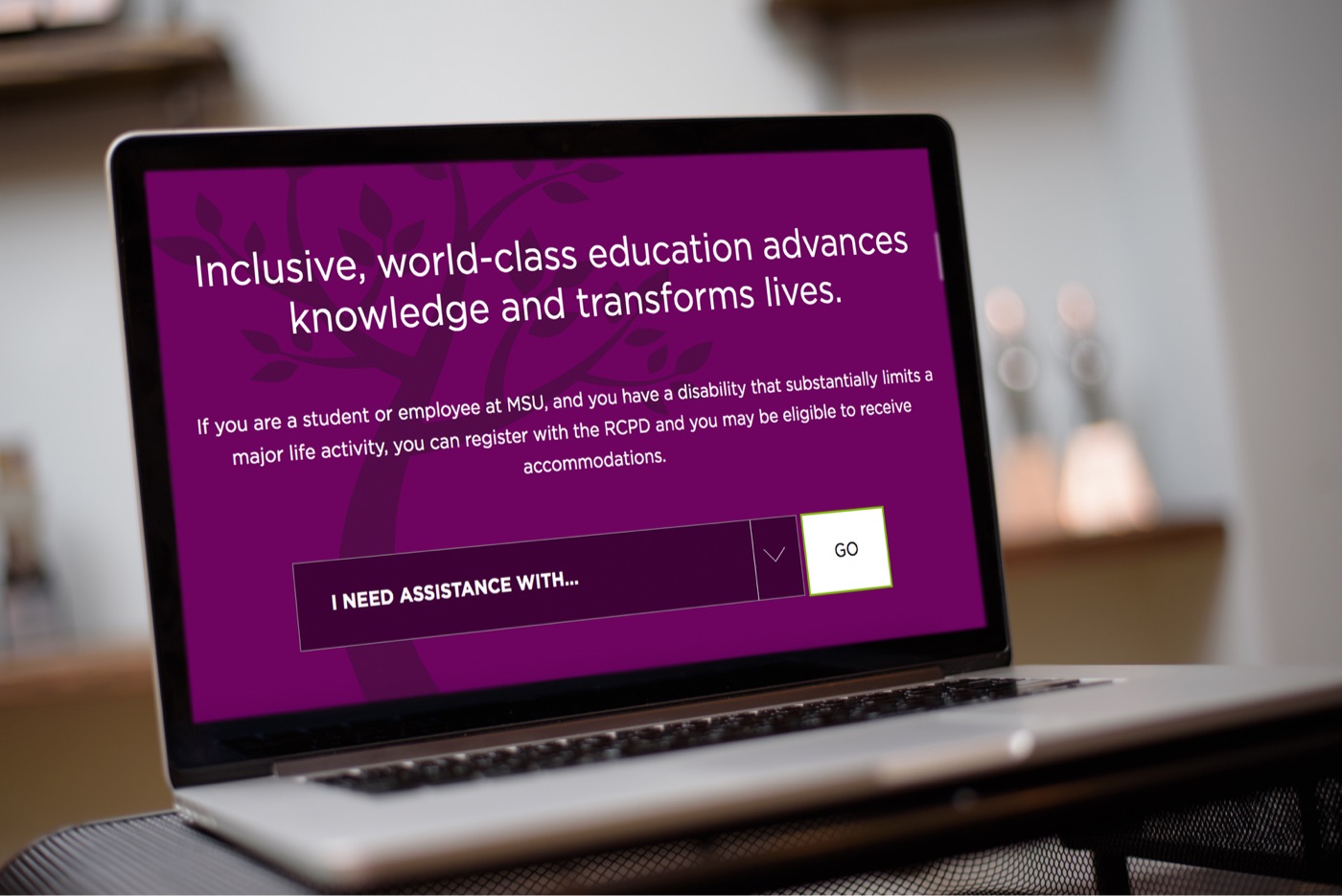 Raising the Bar on Accessibility Compliance
We're proud of our commitment to web accessibility. As web experts, this is one aspect of our role that we're passionate about getting right. This project put our web accessibility knowledge and skills to the test – perhaps like none other. RCPD serves the entire student body at MSU, including all faculty and staff members – more than 50,000 individuals. Their website needed to support the needs of various users including people with mobility, visual, and learning disabilities, people who are deaf or hard of hearing, and those with brain injuries, psychiatric, and various chronic health conditions.
Committed to Inclusion
It's likely that a larger percentage of people using this website may require additional assistance to access information. Our team worked closely with RCPD, including knowledgable members of their staff, to build an inclusive web presence. In addition to applying our standard accessibility process – ensuring that the website complied with WCAG Level 2.1 AA requirements – we took extra measures to meet AAA requirements whenever possible.
The RCPD staff was instrumental throughout this process, ensuring that each element of the website worked well with screen readers through careful review and testing.
Preserving a Long-Standing Legacy
RCPD has a long-standing commitment to collecting empowering stories. Their "Ability Blog" is an impressive collection of stories that highlights important work happening at RCPD, MSU, and across the globe to support persons with disabilities. The new website has a massive library consisting of more than 500 stories from their "Ability Blog" dating back to 1996. Using Drupal, their team can easily publish new stories to keep their legacy going.
Providing Easy Access to Information
Information and resources are available throughout the site, but with so much content, it's not always easy for users to find what's relevant. We used Drupal's taxonomy tools to pull relevant content onto specific pages. In this way, users can find blog posts, frequently asked questions, scholarships, stories, and other items that are relevant to their specific needs.
We selected Gravity Works after careful consideration, thoughtful interviews with several providers, and extensive background research. The company appeared well-equipped for the scale of our project and their leadership evidenced commitment to accessible design. Our website is vital to our mission and the outcomes met our objectives. Gravity Works' developers were effective partners with our team and working together we transformed our web presence including contemporary design, accessibility, mobile friendliness, and ease of manageability.
Michael Hudson
Director, MSU RCPD
Like What You See?
We love people who are passionate, communicative, and care about doing things the right way. Sound familiar? Let's start talking.