Northeastern State University
As the oldest four-year public institution west of the Mississippi River, Northeastern State University has a reputation for providing excellence in higher education. NSU stands by breaking barriers–supporting first generation, minority, and part-time students with a wide range of academic programs and flexible curriculum. To improve their online image, our team built a cohesive web presence that represented departments across three campuses. The new NSU website portrays their quality education and supportive community by showcasing all they have to offer.
8500+
students, and 325+ faculty
25%
students identify as American Indian
1909
the year NSU was established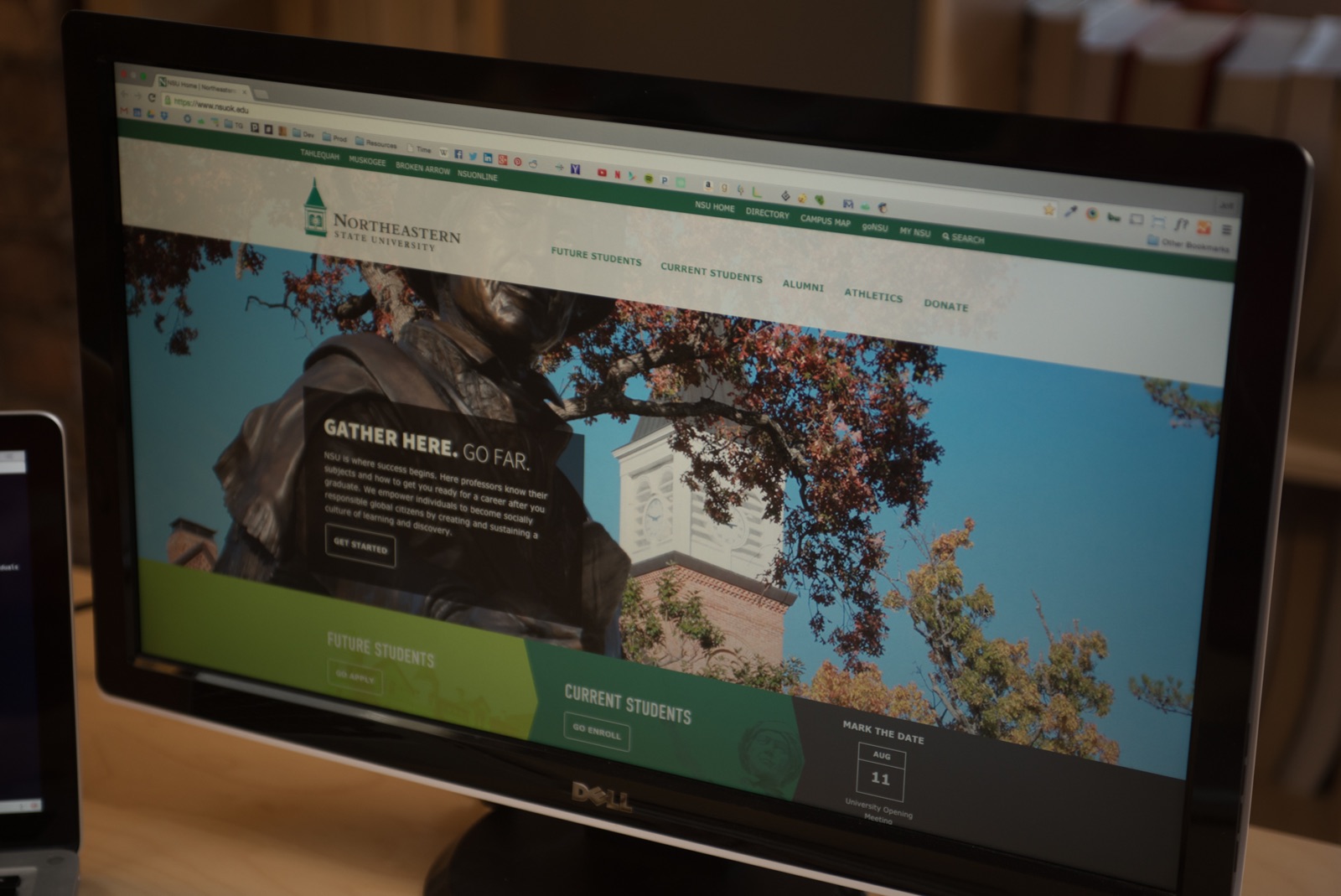 Modern Design
This fresh website design is inspired by NSU's rich heritage, and built to attract students while guiding curious website visitors into successful alumni. The polished, modern look-and-feel of the site promotes clear calls to action with a special focus on applications and enrollment. We worked with NSU stakeholders to ensure that the website followed NSU brand guidelines and WCAG 2.0 AA accessibility standards.
User Focused
Research guided the entire project, from initial security audit to user acceptance testing. Extensive testing included cross-browser compatibility, page speed, accessibility, and usability research.
Leading in Accessibility
Roughly 25% of the student body consists of minorities, many of whom are the first in their family to attend college. The university also caters to helping part-time students succeed academically, despite busy schedules and outside obligations. To support this rich diversity, Gravity Works launched the website with WCAG 2.0 Level AA, Oklahoma's SOITAS, and Section 508 accessibility compliance.
Working Remotely
Our core project team flew to Oklahoma to give the initial kick-off meeting in-person. During our brief visit, we toured the campuses, discussed branding, and interviewed focus groups to get a better sense of the campus community. After that, the entire project was completed remotely from our office in Lansing. Regular communication allowed our two teams to successfully collaborate and meet project deadlines.
Aggressive Timeline
This full-university website launched in scope, in budget, and on time...with a 90-day timeline. Part of that time included gathering feedback from a variety of project stakeholders across 26 departments. In three months we delivered a full-university website, including two subsites, with the stamp of approval from all stakeholders.
March 25, 2015
Project Kickoff
May 13, 2015
Design Complete
June 15, 2015
Development Complete
July 16, 2015
Website Launch
Results
NSU deserves a website that engages prospective students; since launch, the "future students" landing page has gone from a 57% to a 17% bounce rate. Half of all visitors to the "visit campus" form are on mobile devices, and they benefit from our responsive development.
I have been involved with managing IT and full life cycle software development projects for almost two decades. I have been both customer and vendor. I can say without equivocation, Gravity Works is the best partner I have ever worked with, period. The team at Gravity Works made managing this project smooth as glass. Originally we had a 126 day timeline; the project owner changed it to 90 days. Gravity Works didn't skip a beat and rose to the task. They proposed a new budget, which didn't break the bank, and delivered on scope, time, and budget. I wholeheartedly recommend the service of Gravity Works.
Mark Stapleton
Former Assistant Director, Communications and Marketing for Digital Platforms and Web Strategies, Northeastern State University
Like What You See?
We love people who are passionate, communicative, and care about doing things the right way. Sound familiar? Let's start talking.